Permahorn
My Blood Carries My Dreams Away
SDD-002
Regular price
Sale price
$18.00
Unit price
per
Sale
Sold out
Borne out of the ashen embers of separation and divorce, Permahorn are a Scottish/Serbian London-based duo who have compiled a selection of brooding, heartfelt songs on a cathartic debut album, My Blood Carries My Dreams Away. Taking cues from slowcore bands such as Galaxie 500, The Red House Painters and Arab Strap, My Blood Carries My Dreams Away plays out like a Nico record covered by Low via the nightmarish vision of David Lynch's Blue Velvet. Taking shape over a twelve month period, the duo used music as an escapism from what was an emotionally difficult time; offering a sense of relief in the process.
On the surface My Blood Carries My Dreams Away is a bleak album tackling themes of desire, obsession, deceit and guilt. Despite this, there are small buds of hope, optimism and a sense that there may be light at the end of the tunnel. Opening with the swaying schizophrenia of the title track: where churning backward loops swirl, accented beautifully by vocals incorporated from 20-year-old tapes recovered by producer Kramer (Bongwater, Galaxie 500, Ween, Daniel Johnston, Low), My Blood Carries My Dreams Away sets the scene from the first note. Inviting the listener on their melancholic journey the record throws up surprises throughout, from feedback-laden 'Radiation' conjuring memories of Pavement to the wonderfully delivered deadpan vocals on the Nico inspired 'Into The Dreams (Slut)' and the harrowing 'Lynch Mob'; a track Arab Strap would be proud of. Sonically, My Blood Carries My Dreams Away leads you down dimly lit alleys, to be lost forever in the morose world of Permahorn. Comprised of Saint Pauly (guitar, vocals, percussion, knobs) and Jexy Pesic (bass, vocals, drums, switches), the duo were taken under the wing of Shimmy-Disc producer Kramer who mixed and mastered their songs at his Noise Miami studio.
Original Shimmy-500 vinyl pressed in 2017, from Kramer's personal archives. 
This is NOT a Re-Issue.
View full details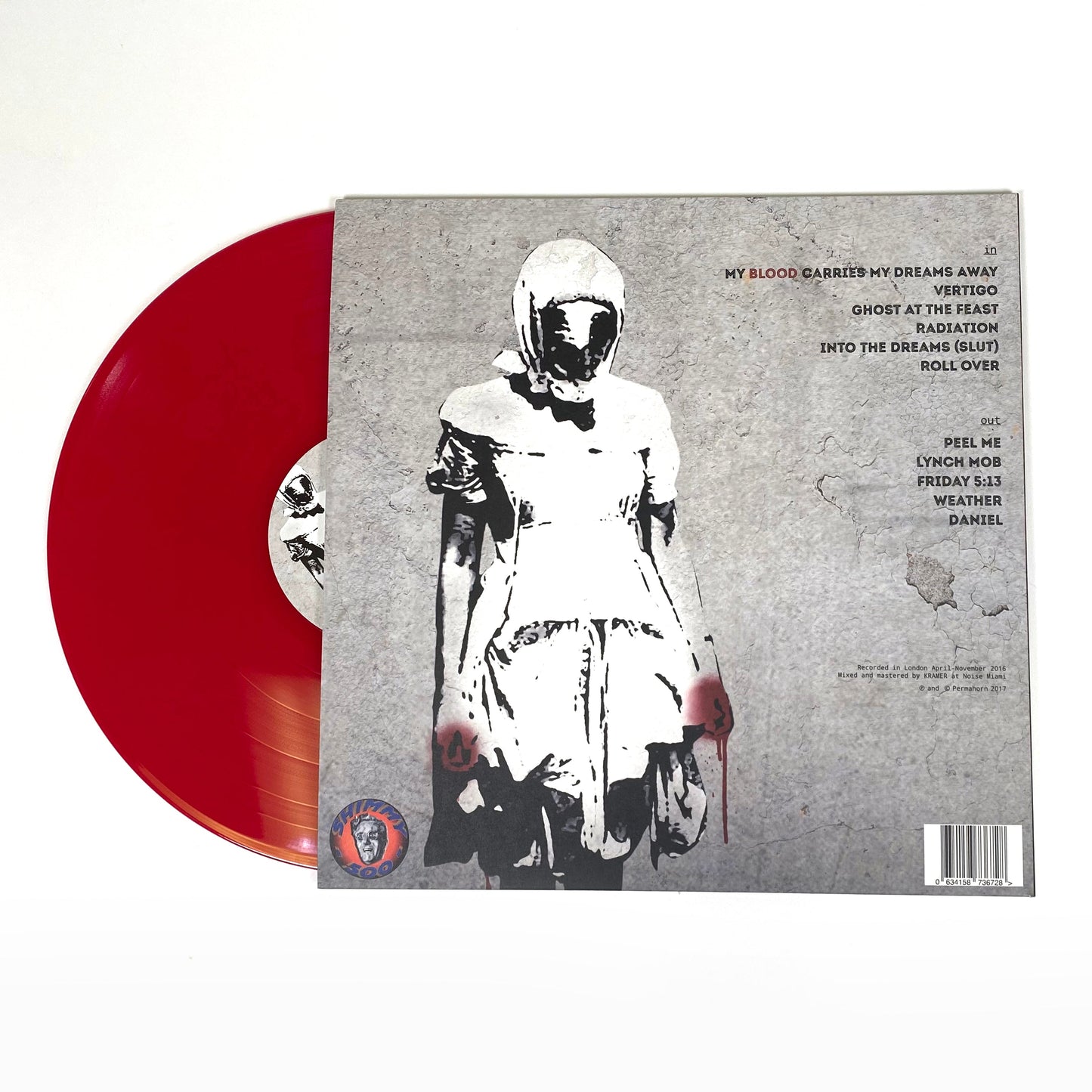 Tracklist

1. My Blood Carries My Dreams Away
2. Vertigo
3. Ghost At The Feast
4. Radiation
5. Into The Dreams (Slut)
6. Roll Over
7. Peel Me
8. Lynch Mob
9. Friday 5:13
10. Weather
11. Daniel
12. Mickey (Cover - Digital Only)

Credits

Saint Pauly: guitar, vocals, percussion, knobs
Jexy Pesic: bass, vocals, drums, switches

mixed and mastered by Kramer