The Lion For Real, Re-Born (2LP)
Shimmy-2021 Release date: Nov 03, 2023
Regular price
Sale price
$32.00
Unit price
per
Sale
Sold out
** SHIPPING NOW ! **
First pressing limited to 555 hand-numbered copies, on 150gm black vinyl.

                                               Photo by Macioce (1984)
(Left to Right) Peter Orlovsky, Allen Ginsberg, Steve Taylor, Kramer, Don Cherry
Shimmy-Disc is thrilled to present this remarkable DOUBLE LP - a fully remixed and remastered reissue of Allen Ginsberg's 1989 album produced by Hal Willner, entitled The Lion For Real, Re-born. 
First released as The Lion For Real in 1989, this historic time capsule roars forth into THE NOW with 8 additional tracks not included on the original release. These are eternal & timeless works, a garden of eden on vinyl to wander through repeatedly, guided by Allen Ginsberg, founding father of The Beats. The Collection is graced by Ginsberg's lyrical mantra, "Don't Grow Old", an irresistible coda with newly composed music by Kramer.

Allen Ginsberg — internationally renowned, visionary American Poet — was a figurehead of the global youth movement in the late 1960s, a devoted teacher and scholar, inspiring generations of young poets. He was a racial activist, pacifist, one of the most politically engaged poets for decades, using his voice and international platform as a campaigner for human rights, gay liberation, ecology, and free speech. Nearly all his books remain in print to this day.


Notes from the original release: 
I'd produced several albums of Blues, & gave cassettes to Marianne Faithfull, then teaching lyric at Naropa Institute, late summer 1987 - She returned them next day, "Maybe you shouldn't sing." I had 30 years' experience reading poetry aloud, vocalizing idiomatic intonations. Michael Minzer & producer Hal Willner had the sense to curb rocknroll ambitions, set me up with literate composers, encourage us to match music & recitation. I owe them thanks for reminding me my proper powers. Lyricist and vocalist, I followed their directions, relieved to leave music to the honorable musicians.

-Allen Ginsberg, Naropa Institute (1988)

Original Producer's Notes (1988)

During the summer of 1986 I met Michael Minzer who runs Paris Records in Dallas. Michael always had a major interest in literature and produced many concerts and recordings of poetry and music. He was looking for someone to produce an album with Allen Ginsberg for his company - Michael had already recorded Allen performing Blake's "Nurses Song" with Steven Taylor and the Garland Chamber Symphony for a compilation album "Made Up in Texas"(1986) and was ready to record a full album with Allen. Familiar with some of my multi-artist tribute productions, Michael thought I'd be the right person to do this project.

I knew much of Allen's work. I've seen him read from his works a number of times and owned a few of his recordings including "Kaddish" (1963) on Atlantic Records, "First Blues" (1982) a double album on John Hammond's label, and "Howl" (1959) on Fantasy. Those records worked wonderfully in their own way (basically documenting the moments) - but I felt that this record should be something different. Ken Nordine's "Word Jazz" records were spoken word LPs, yet came across as music albums. I wondered if an album with Allen could do the same thing. It was a challenging project and always looking to get involved in potentially dangerous situations, I took Michael's offer.

At the first meetings, Allen seemed suspicious. He obviously had gone through some strange experiences with making records before, and that I had only some general conceptual ideas didn't really help. A few months later an album that I produced for Marianne Faithfull ("Strange Weather") was released and Marianne played the record for Allen at the Naropa Institute in Colorado where they were both teaching. Allen liked the album and with some encouragement from Marianne, he became enthusiastic about our project. Shortly thereafter an approximate recording period was scheduled.

To start, both Minzer and I read Allen's complete works, now easily available in two volumes by Harper & Row. We each made a list of about twenty poems that we thought would work well with music. Allen picked about eighty. One night he read almost all these to me in his apartment accompanied by a neighbor screaming out of his window to shut up. We then decided on about fifty poems to consider. Next I called about a dozen of my favorite composer/musicians that I felt would be right for the project, gave some his collected poems, and invited them to A&R Studios in New York to hear Allen record.

Ginsberg read poems that we picked out, with additional requests from the musicians, for about six hours in the studio while we sat in the control room - an amazing night. We gave the evening's tape copies to musicians and invited them to pick about three poems and compose music. We met separately later that week and picked the best poems for each to work on.

The week that we spent recording went extremely well. Each night everyone would arrive between seven and eight in the evening and pieces would be presented by the composer, rehearsed and recorded with Allen reading the work live. Then we'd go to the next composition. After the first performance broke the ice ("Refrain"), everyone's nervousness disappeared and the sessions went by quickly and smoothly We averaged four poems recorded each night. Character contrasts were great, from an insane Gary Windo arranged number to a beautiful Steve Swallow composition within a few hours; personalities from Beaver Harris to Arto Lindsay would float in and out of songs. Allen, who was never quite in a situation like this before, adapted quite well and kept everyone's spirits high. At the end of the week, we had twenty-one numbers recorded, of which we decided to complete all but one.

Chris Blackwell and Kim Buie of Island Records heard the results and immediately wanted to release it to start a series of spoken word great poet/musician collaborations on their newly formed Jones label. After a few sequence changes and interesting debates on what tracks to delete, the record was finished.

Thanks go to everyone associated with this project. Of special mention is Joel Tornabene who put Michael Minzer and myself together, Joe Ferla for being alive, Fran Tose for her help at the start of the album, Marianne Faithfull for her valuable friendship, and especially Allen Ginsberg for putting himself and his art in our world and taking the chance. I still don't know what the reaction will be, but hope the enjoyment that went into the record shows.

I'll be seeing you.
- Hal Willner


Re-Release Liner Notes (2023): 

1987. Hal Willner had a plan. Choose musician / composers to read through Allen Ginsberg's big book of poems. Have each musician choose 3 poems to score, then assemble players and record with Allen reciting (not singing). Each composer chose from the pool of players; there were duets up to full ensembles, plus Lenny Pickett made a piece where he played all the parts. The guitar section of me and Marc Ribot, Bill Frisell, Arto Lindsay was an exercise in skill levels and diverse backgrounds. The sessions at A+R studios in NYC went late. Summer of 1987, 9th avenue in the 40s was home to hundreds of roving crack heads, which made getting a cab home an adventure, with guitar cases becoming weaponized.

The composers were prepared, the sessions couldn't have gone any smoother. Joe Ferla was the engineer, always a calming presence. Allen was all in. I talked to him about doing Kral Majales. I went home after the first night and wrote a piece for bass clarinets. Hal gave it his blessing. We met the next day at Sorcerer Sound. Ralph Carney layered the bass clarinets, Allen spoke the poem. That night at A+R, we added the entire ensemble on top of Ralph and Allen with Bill Frisell playing lines I had never dreamed of.

Biggest personal thrill for me was playing with drummer Beaver Harris, a huge influence despite not being too well known. Having the steadying presence of Steve Swallow to balance the crazed energy of Gary Windo was a masterful Willner move.

Over the next year, we continued working on the record at Bearsville Studios in Woodstock, where Joe and Hal mixed. These sessions begat "hadda be playing on the jukebox" which didn't make the record, being too much of a rant. During the session, Allen spilled a cup of honey laden green tea into the SSL console, so we had a down day.

The record took another year to come out, with controversy over "C'mon Jack".

For years after, when I'd see Hal or Allen, I'd say, "Ah, Robertson, it's you."

- Mark Bingham (New Orleans, USA 2023)

•••••••••••••••••••••••••••••••••••••••••••••••••••••••

When I was a little boy, growing up in Denver, in the 50s, I had dreams. My father was a scientist who spent his whole life experimenting with chemical reactions. One time he went away on a trip to San Francisco and brought back stories of beatniks and modern art. I still remember clearly now how this fired up my imagination. Got me thinking about what all might be out there. On the road. Dreaming. Possibilities.

Allen Ginsberg gave voice.

Twenty some years later along comes Hal Willner. There must be angels. Michael Minzer and Hal. An extraordinary cast of characters was assembled. Chain reactions.

Vision, faith, and trust.

I am so thankful.

Here is strong evidence that good things are possible. There are such things as harmony and compassion. Dreams do come true.

- Bill Frisell (Haugesund, Norway 2023)

•••••••••••••••••••••••••••••••••••••••••••••••••••••••

The Lion For Real has always been among my absolute favorites— both in the process of making it, and the results— of all the records i've played on.

The process was Hal Willner at his best: helping to translate a NYC Bohemian culture across generations and micro-scenes…putting people who it was unlikely would have wound up in the same room together…then stepping back and making sure tape was rolling (yes, it was tape, and yes, it rolled) when the chaos began. What made it all possible was the spirit of generosity and respect, emanating from Willner, and from Ginsberg himself— that Beat reverence for improvising musicians' ability to compose in real time, the paradox/dream of a poetry beyond words.

I had heard Allen Ginsberg when i was a teenager: he read at the Northfield Y in West Orange, New Jersey. Allen's father, who wrote a poetry column for the Newark Evening News, read first. Then Allen read Kaddish. When the last "Caw Caw Caw, Lord Lord Lord", faded….the audience sat in stunned silence for what seemed like a very long time before the applause began. "Wow", i thought. "So this is what that poetry stuff is about." At the Lion For Real sessions, Allen told me he remembered the reading— the first time he had read Kaddish for an audience including the Newark area relatives who had known his mother... whose kaddish it was.

Too many stories. I'll pick one: the poem "Mind Breaths" contains the line "first thought, best thought". But the first take of our version was particularly bad. "So Allen", I said, like the wise-ass i was: "does that mean 'first take best take'"? Allen responded in his most measured Buddhist manner: "The first take does not always best embody the first thought." Perhaps the same is true of first pressings: I'm thrilled that this beautiful record is being re-released.

- Marc Ribot (Ovar, Portugal 2023)

•••••••••••••••••••••••••••••••••••••••••••••••••••••••

I miss Allen. I miss Hal. I miss Gary. I miss Ralph. I miss the magic that only they, in their wisdoms of infinities, could offer up.

In 2023, Michael Minzer and I decided that it was high time to give this historic LP a new life. Michael tracked down as many of the 24track tapes from the original sessions as he knew still existed, along with the surviving two-track stereo mixes we needed to complete our re-telling of the original LP. I'd imagined it to be my own personal vision of Hal's director's cut, illuminating the times of their lives, invaluable both to Ginsberg scholars and music listeners alike.

Hal brought Michael Minzer's vision to life. Yes, it all began with Minzer. People need to know that. This whole blessed event was his crazy idea. It was one man's infinite passion for poetry and music that ignited everything. Then, entrusted to the guidance of Hal's divine compass, the real magic began to happen. And it'll never happen like that again. The Lion, for Real.

The double-LP you're holding now restores all the missing pieces of Allen's text and Hal's ambitious musical vision. I've remixed everything we managed to salvage from the 24-track tapes, but I didn't remix to make it sound "better". I wouldn't know "better" if it came knocking on my front door like a heart attack. All I know is that I did what I felt in my heart was the right thing to do, which is also what I felt Allen and Hal (33 years after-the-fact) might have agreed (with posthumous hindsight) was best. With that in mind, I've mined through each and every take of each and every performance, searching for platinum, silver and gold. I found plenty. Every song/poem recorded during that week at A&R Studios is NYC is represented herein, including 8 that were not included on the original LP. I also added new music of my own to two poems that Allen recorded for which no music was ever written, and placed them last here, as a kind of coda. I just couldn't help myself. I wanted more. I always have. I am ravenous. So was Hal, and so was Allen. They were unstoppable.

"THE LION FOR REAL, Re-Born" is a roaring testament to their art, and to their lives, which of course were one and the same.

Hey Allen. You like?
Hey Hal. I'll be seeing you.

- Kramer (North Carolina, USA 2023)


View full details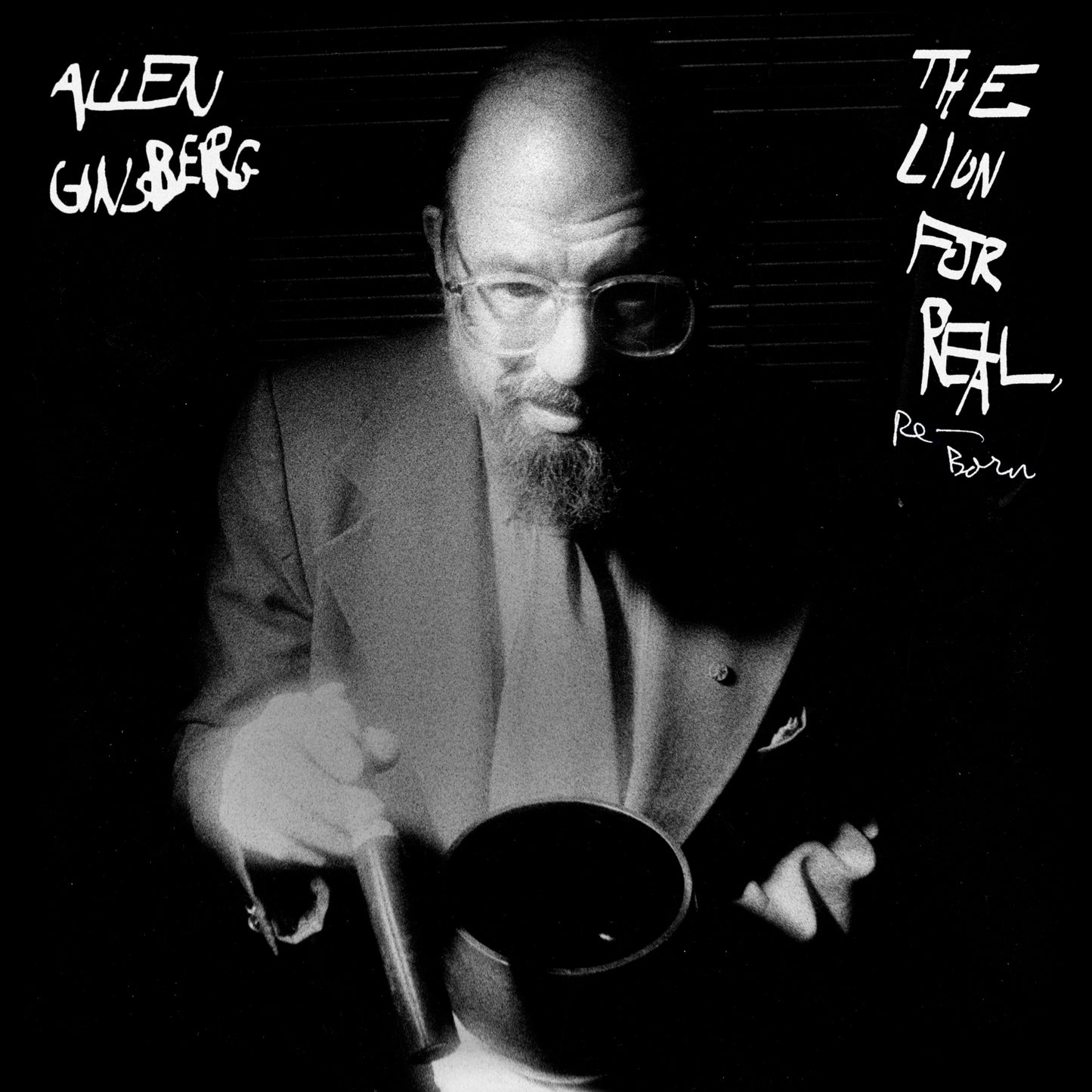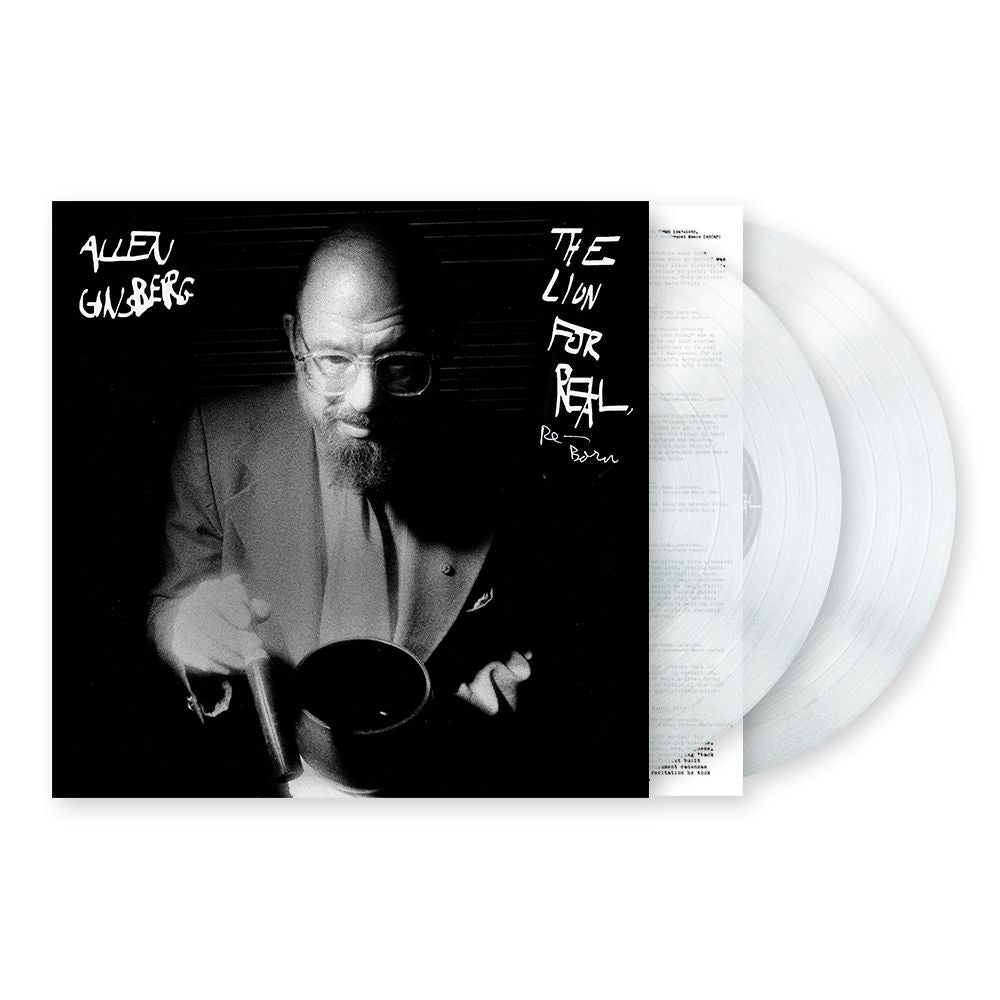 Tracklist

** plus 8 tracks not included on original release
Side A
1. The Lion For Real - 5:45
2. **Bricklayer - 1:51
3. Refrain - 3:30
4. **Cosmopolitan Greeting - 2:16
5. **Night Gleam - 2:00
6. **Squeal - 2:29
Side B
7. Cleveland, The Flats - 3:00
8. Complaint of the Skeleton to Time - 3:07
9. The Shrouded Stranger - 3:16
10. Stanzas - Written at Night in Radio City - 5:07
11. Guru - 3:24
Side C
12. Gregory Corso's Story - 2:17
13. **Pull My Daisy - 3:04
14. The End - 2:24
15. **Hadda Be Playing on the Jukebox - 6:15
16. Xmas Gift - 1:39
17. Sunset - 1:43
Side D
18. To Aunt Rose - 3:31
19. Scribble - 0:50
20. Hum Bom! - 3:59
21. Kral Majales - 5:10
22. **Bai Juyi - Part 7 - 1:43
23. **Don't Grow Old - 2:56
Digital Only Tracks:
24. C'mon Jack - 2:43 (Digital Download track- 2 versions, one version is radio friendly - explicit content bleeped out)
25. Ode to Failure 2:42 -This track is a Digital Download only.

Credits

The Lion For Real - Re-born

Allen Ginsberg (all words)

With music by Contributing Artists:
Mark Bingham
Michael Blair
Ralph Carney
Bill Frisell
Beaver Harris
Kramer
Arto Lindsay
Lenny Pickett
Prairie Prince
Marc Ribot
G.E. Smith
Steve Swallow
Rob Wasserman
Gary Windo
Garo Yellin
Produced by: Hal Willner
Executive Producer: Michael Minzer
Mark Bingham appears courtesy of Dog Gone Records, Inc.
Bill Frisell appears courtesy of Elektra/Asylum/Nonesuch Records
Arto Lindsay appears courtesy of Virgin Records America, Inc.
Lenny Pickett appears courtesy of Carthage Records
Rob Wasserman appears courtesy of MCA Records, Inc.
Recorded and mixed by Rob Wasserman
Recorded at A&R Studios, New York
Additional recording at Bearsville Studios, New York and Sorcerer Sound Studios, New York

Re-Release Credits (2023)

All SongPoems on Sides A, B & C were Re-Mixed & Mastered by Kramer.
SongPoems 6 on Side C and 1-4 on Side D were Re-Mastered by Kramer.
SongPoems 5 & 6 on Side D were newly discovered on the original
multi-track tapes without musical accompaniment, so Kramer added some.

Cover Photo (1983) © Macioce
Cover Handwriting by Michael Minzer & Allen Ginsberg

Layout & Design by Ryan Hover

Archival Analog-to-Digital Transfers by Andrew Yeomanson
Executive Produced (for the 2nd time) by Michael Minzer


All Words: Allen Ginsberg as published in COLLECTED POEMS 1947- 1980 Published by May King Poetry Music (BMI)

Music Composers / Publishers Listed below by Track:
(Side A)
The Lion For Real - Gary Windo / Copyright Control
Bricklayer - Bill Frisell / Friz-Tone Music, BMI
Refrain - Michael Blair / Copyright Control
Cosmopolitan Greeting - Michael Blair / Copyright Control
Night Gleam - Marc Ribot / Knockwurst Music, ASCAP
Squeal - Arto Lindsay / Copyright Control

(Side B)
Cleveland, The Flats - Ralph Carney / Copyright Control
Complaint of the Skeleton to Time - Gary Windo / Copyright Control
The Shrouded Stranger - Marc Ribot / Knockwurst Music, ASCAP
Stanzas: Written At Night in Radio City - Lenny Pickett / Lenny Pickett Music, ASCAP
Guru - Steve Swallow / Wonderbuns Inc. BMI admin. Mayflower Music

(Side C)
Gregory Corso's Story - Bill Frisell / Friz-Tone Music, BMI
Pull My Daisy - Arto Lindsay / Copyright Control
The End - Marc Ribot / Knockwurst Music, ASCAP
Hadda Be Playing On The Jukebox - Mark Bingham / Ti Bon Ange, BMI
Xmas Gift - Mark Bingham / Ti Bon Ange, BMI
Sunset - Bill Frisell / Friz-Tone Music, BMI

(Side D)
To Aunt Rose - Marc Ribot / Knockwurst Music, ASCAP
Scribble - Michael Blair / Copyright Control
Hum Bom! - Steve Swallow / Wonderbuns Inc. BMI admin Mayflower Music
Kral Majales - Mark Bingham / Ti Bon Ange, BMI
Bai Jui Part 7 - Kramer / Secretly Publishing
Don't Grow Old - Kramer / Secretly Publishing

Digital Tracks:
C'Mon Jack - Steve Swallow / Wonderbuns Inc BMI admin. Mayflower Music
Ode to Failure - Michael Blair / Copyright Control