Daniel Johnston
Alive In New York City
SHIMMY-2020 Release date: Jan 19, 2024
Regular price
Sale price
$35.00
Unit price
per
Sale
Sold out
This historic release is available in three distinct vinyl pressings and one limited-edition cassette.
The 1st pressing is limited to 555 hand-numbered LP's on 150gm black vinyl. It includes a VERY SPECIAL Art Print of a previously unseen Daniel Johnston colored marker drawing available ONLY in this first pressing. 
This very special release also features a limited-edition 2nd pressing of 999 LP's on "Ghost White" vinyl, in memory of 'Casper', one of Daniel's favorite characters.
An "Invisibly Clear" vinyl pressing is also available for pre-order, and will arrive in stores on January 19, 2024 along with the limited-edition cassette.
The free digital download card that accompanies each vinyl purchase also includes "The Telephone Demos". 
NOTE: The first pressing of 555 black vinyl LP's will be available ONLY from the Shimmy-Shop and Bandcamp. 
Also included in each of the three vinyl pressings is a beautiful 3-ft tall fold-out poster of Daniel in New York City.
The 56 minute Cassette release also includes "The Telephone Demos". 
                                                    Photo by Maurice Narcis
(From the LP Liner Notes):
"Daniel played several shows in New York City in April of the year 2000, but there is no way to know for certain the exact date this recording was made, or the venue in which the performance took place. Sorry.  This LP was Mastered from a 'DAT' Kramer found 20 years later. It contains one brilliant Daniel Johnston performance in its entirety, unedited, unaltered, unforgettable.  These memories conclude with a brief excerpt from a street interview Daniel gave in New York City, recorded during the same period in his extraordinary life. We hope you find yourself treasuring these frozen moments as much as we do. The End."
Shimmy-Disc is elated to announce a brand new LP from the legendary American artist Daniel Johnston, titled "ALIVE in NEW YORK CITY" - a full live concert captured in front of an audience of his most devoted fans in New York, the city of Daniel's dreams. Daniel is at the very height of his performing powers here, with his poignant voice and exquisite heart beating in full bloom, and the audience is with him all the way. No other live performance recording we've ever heard captures the marriage of audience & performer in the way this one has. Hearing it, is like being there. Daniel gave it all on this very special night.

This is the first official vinyl release of Daniel performing live in the USA, and Shimmy-Disc is proud to be partnering with The Daniel Johnston Estate for this historic vinyl event.

Recorded and live-mixed by Kramer in April of 2000, the long-lost tape was found by Kramer 20 years later, marked solely with the words "NYC April 2000". So despite best efforts (and adding to the mystery behind the origins of this recording), we are unable to determine with 100% certainty the actual venue at which the performance took place, since Daniel played several gigs in NYC at around this same time.
The LP contains one brilliant Daniel Johnston performance in its entirety, unedited, unaltered, and unforgettable, concluding with a brief excerpt from a street interview Daniel gave in New York City that was recorded during the same explosively creative period in his extraordinary life. It's a real time-capsule for Daniel's fans, and a real tear-jerker... "You're never really gone", he says.

Perhaps the most exciting feature of this amazing live LP is the fact that it contains TWO SONGS that appear on no other Daniel Johnston release
, making it a priceless addition to Dan's catalog. The recording captures him at an unusually happy point in his life. We are given a rare, uncensored glimpse into

 

one-night-in-the-very-real-life of Daniel Johnston, wherein the physical rendering of his lyrics transcends the music and works as a beacon into the tender soul of a genius.

We hear him grappling LIVE ONSTAGE with his enduring struggles of how to love himself and how to find his place in the world,

 

as he experiences it. In his songs, Daniel shows us that it is a universal struggle

 
shared amongst all of us. He reminds us (as perhaps no other artist ever has) that we are all just human, and that

 

the only hope we truly ever have

 
in finding Love, is to just keep trying.
He articulates these feelings perhaps best of all in the

 

two previously unreleased songs;

 
MEMORY OF LOVE, and

 

SUPER LOVE. These two stand-out tracks are sure to become classics in Daniel's posthumous repertoire, and they make this "ALIVE IN NEW YORK CITY" LP instantly indispensable to both fans and collectors alike.

Shimmy-Disc is proud to present this new LP to the world along

 

with 18 minutes of

 

FREE digital-download-only

 

bonus material

 

comprised of some of the rarest audio treasures from the Daniel Johnston Archives - a series of

 

'Telephone Demos' created by Daniel specifically for sending over the phone to friends, fans and radio stations worldwide. As the consummate self-promoter, Daniel loved the telephone, and he used it the same way Ernie Kovacs used the TV, gleefully experimenting to his heart's delight. It was

 
very often his creative medium of choice during his early formative years.
These little teleplays from Daniel's pre-"1990" days have never been heard before, so his most devoted fans will surely go wild with joy over this newly discovered and precious cargo from the young mind of this universally beloved, one-of-a-kind artist. 
 Kramer & Daniel in NYC circa 1999
   Photo by Valerie Zars
View full details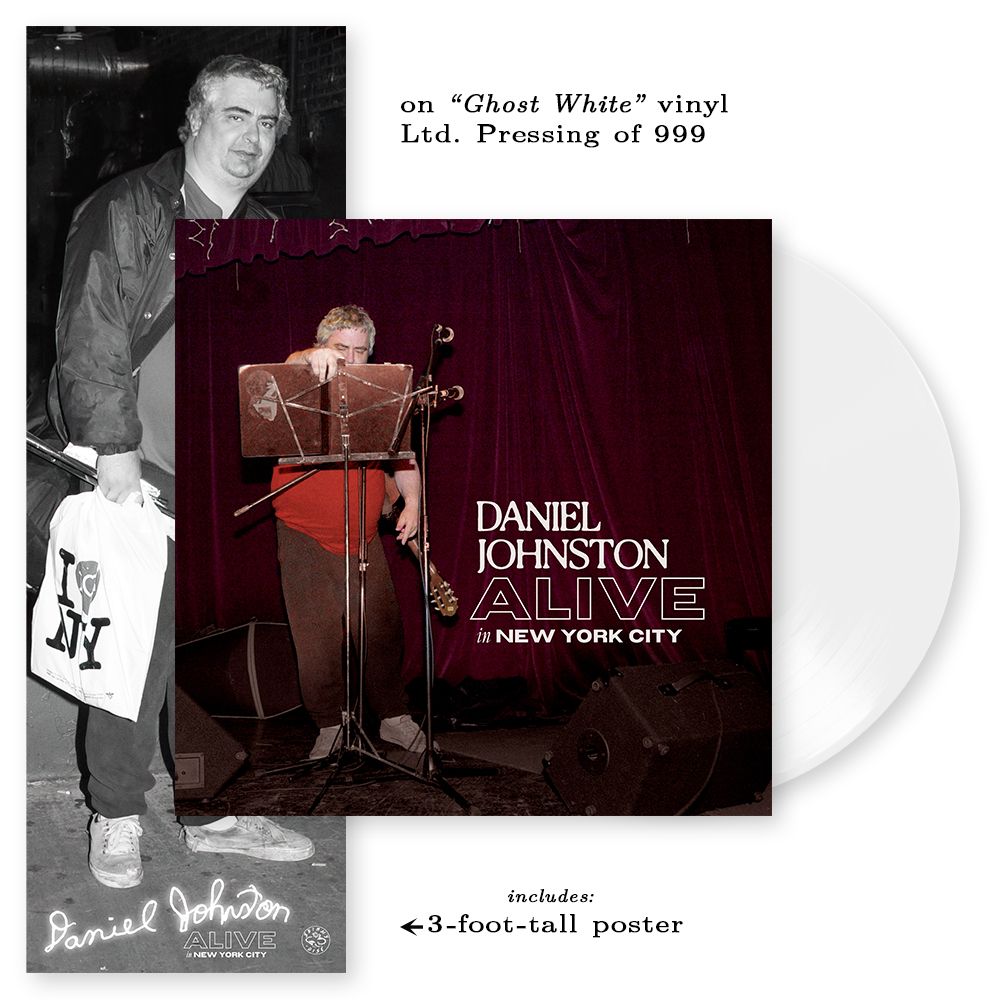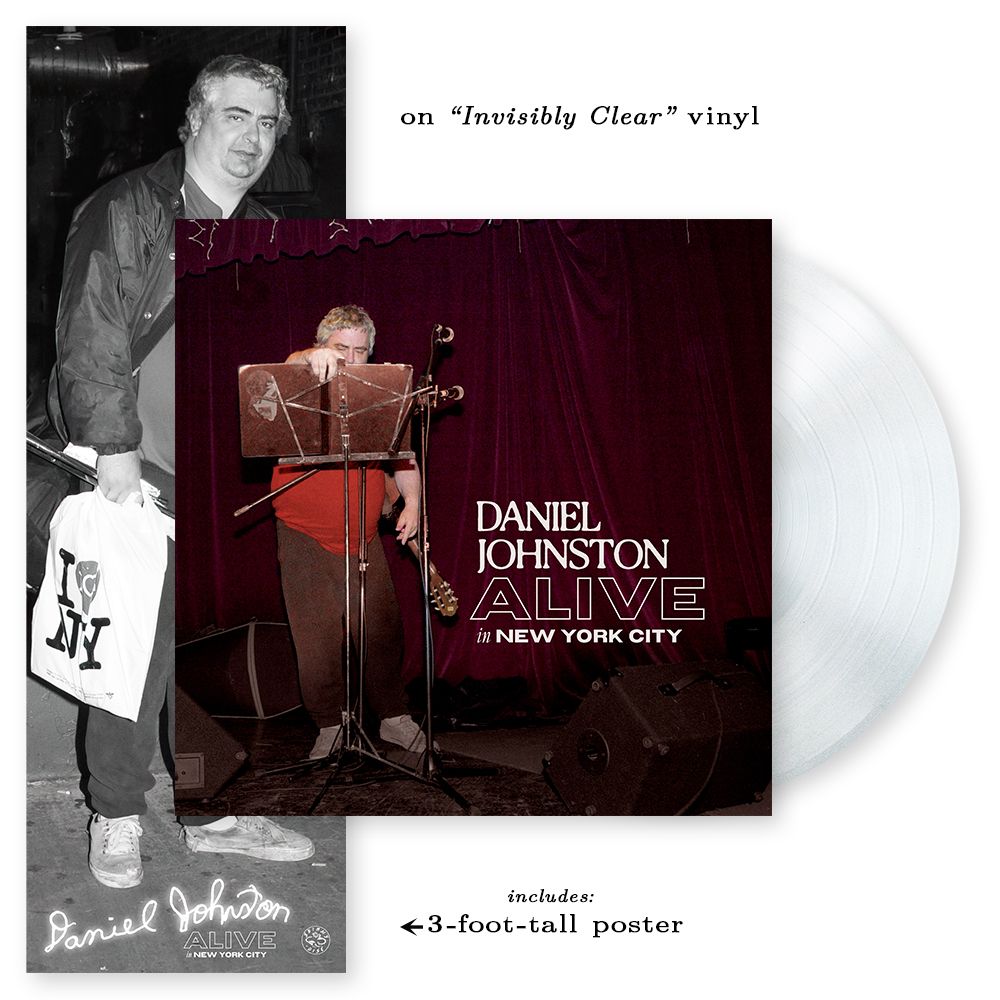 Tracklist

"Alive In New York City" - Daniel Johnston
Side A
1. Frito Lay, Sweetheart
2. Frustrated Artist
3. The Spook
4. Love Will See You Through
5. Silly Love
6. Live And Let Die (McCartney)
7. You've Got To Hide Your Love Away (Lennon-McCartney)
8. Casper the Friendly Ghost
Side B
9. Memory Of Love
10. Bloody Rainbow
11. Super Love
12. Kool-Aid Medley / Funeral Home
13. Folly
14. (interview excerpt)
Digital Only:
15. The Telephone Demos

Credits

All Songs by Daniel Johnston (except where noted)
Published by Eternal Yip Eye (E.Y.E.) Music & BMG Music Publishing
Layout and Design by Fly Eye & Ryan Hover
Art Direction by Don Goede
Photography by Maurice Narcis

Live Mix & Recording by Kramer (April, 2000)
Mastered by Kramer (2022)

This release is in partnership with the Daniel Johnston Trust