Language Learner
Shimmy-2010 Release date: Feb 18, 2022
Regular price
Sale price
$24.00
Unit price
per
Sale
Sold out
LUMBEROB is Rob Erickson.

LUMBEROB began as a solo looping concept project in late 1999 in Austin, Texas, way before looping was a genre. The work was raw and spastic. It was a simple show, a vocal show: a mic run through an Octave pedal and a Fuzz Factory into an AKAI Headrush looper. Always illegible, the loops were guttural, choppy, vocal noise - direct and live, always wholly improvised and never ever ever using pre-slugged playback. Just do a YouTube search for Lumberob and see for yourself. There's plenty to see.

Clearly influenced by the minimalism of WEEN's Shimmy-Disc debut, The Pod, the early LUMBEROB shows were at first an attempt to emulate one particular Jad Fair show which Rob had witnessed back in 1993 when he'd just graduated from high school. On a side stage at Lollapalooza, Jad was fronting a noise band called MOSQUITO, and he appeared to be swallowing brightly colored Fischer Price microphones making completely illegible vocal noises. It sounded so ferocious and looked so silly. It was perfect, literally jaw dropping. Rob turned to see tennis phenom Jennifer Capriati (fresh off her arrest for shoplifting jewelry from a mall kiosk) standing right beside him. They did not speak, but Rob did speak to Jad. They shook hands. That's where it all began.

Jumping to 1999, Rob's band ADULT RODEO signed to Shimmy-Disc and was soon touring the USA and Europe with Jad Fair & Kramer. Rob's sister, Kristin (of renowned electronic music duo Blectum from Blechdom) was playing midi keytar in the band at the time. Jad and Rob got to goofing and eventually a Jad Fair & Lumberob sideshow was born from soundcheck antics and rehearsal space excess.

Rob eventually moved to NYC where he received an MFA in Playwriting (with Mac Wellman) from Brooklyn College in 2007. It was in this context that his performative language mangling was made formal on the page. Rob would point to Artaud's vocalizing, Giacoma Balla's futurist poems, Hugo Ball Dada sound poetry, Samuel Beckett texts like WATT, Kurt Schwitter's Ursonate, Bob Cobbing, Ivor Cutler, Jaap Blonk, Captain Beefheart, Tom Murrin and so many other experimental poets and performance artists and now loop artists blurring genre and breaking forms as inspiration, performing extensively at NYC clubs and theaters like Tonic, the Knitting Factory, Dixon Place, La Mama, the Kitchen, the Invisible Dog, and the Bushwick Star. Growing from a scrappy sound project to a fully realized performance art extravagance, mixing sound, dance, and language into a spastic whirlwind of curvi-linguistic mayhem, LUMBEROB had a good thing going as a working performance artist in the early 2000s.

Jad Fair & Lumberob played Performa 2009 at the festival "A Fantastic World Superimposed on Reality: A Select History of Experimental Music" curated by the late, great Mike Kelley. 

Music journalist Simon Reynolds said of the performance: "...but the stand-out performance was Jad Fair and Lumberob, doing this very peculiar but entertaining human beatboxing fed through delays/loops/FX, "phrase-sampling" i think they call it... at certain points they seemed to be doing jungle tracks using just their voices, real rumblistic B-lines a la "The Helicopter Tune"... elsewhere it was like the vocal weirdness Gibby used to do in Butthole Surfers meets i dunno Mighty Boosh crimping, but, um, a lot more enjoyable and dynamic and just mighty than that possibly sounds.... strangely though the one track at their Myspace isn't nearly as impressive as what they did on Friday, perhaps it's something that only works at top volume and onstage with them doing their nutty dance routines."

And now, LANGUAGE LEARNER has arrived. It is LUMBEROB's debut LP, Mixed & Mastered by KRAMER.

Having collaborated now for over 23 years, KRAMER and LUMBEROB understand each other. They also understand how to create a majestic avalanche of sound. This music is urgent madness, at times overflowingly decorative, at times lusciously spastic, with an unpredictably eclectic sonic vaudeville energy. Call it Dada Ska. Call it Circus Soul. Call it Rob & Roll. Call it whatever you like.

In Kramer's own words, "Few musicians and their music have inspired me over the course of decades like LUMBEROB has, and few performance artists have inspired the kind of awe in me that just takes my breath away, over and over and over again. Onstage, there is no one to compare him to. You can't take your eyes off of him, and you leave with your ears glued to him forever."

This is dance music for working things out! This is workout music for dancing things! Sign up soon! Teacher training! Get certified! NOW is the time for LANGUAGE LEARNER!

There's proper sing song structure here with tunes like BLESSENCE and REDBARON and FRIEDLEGGINGS and BEGANTOCRY and SNACKTHREAT which are interspersed with the relentless onslaught of serious jammers like FRESHROOM and PANICSMOOTH.

LANGUAGE LEARNER is a bold exercise in genre discovery and genre blur, proudly assuming its position in high contrast to several other recent and gorgeously crafted Shimmy-Disc releases. It is this contrast that's reminiscent of the wildly divergent and inventive catalog curated by KRAMER from decades past.

Shimmy-Disc is a label without a genre. It always has been. It always will be.

LANGUAGE LEARNER is the long-time-coming debut LP by LUMBEROB. With a front cover portrait by renowned NYC painter Sonya Sklaroff and music (Produced by Lumberob & Kramer) to dance and sing and cry til you die, this LP is just the beginning. A new audio-art genre is born. We challenge you to find something that sounds even remotely similar.

Shimmy-Disc is proud to welcome this most extraordinary, multi-disciplinary artist to its 21st century roster.

"The text. WOW. And the music, I'm deep in now. It's really fucking good and so different. Almost like fast MoonDog. Really really fucking good."
- PENN JILLETTE (Penn & Teller)
View full details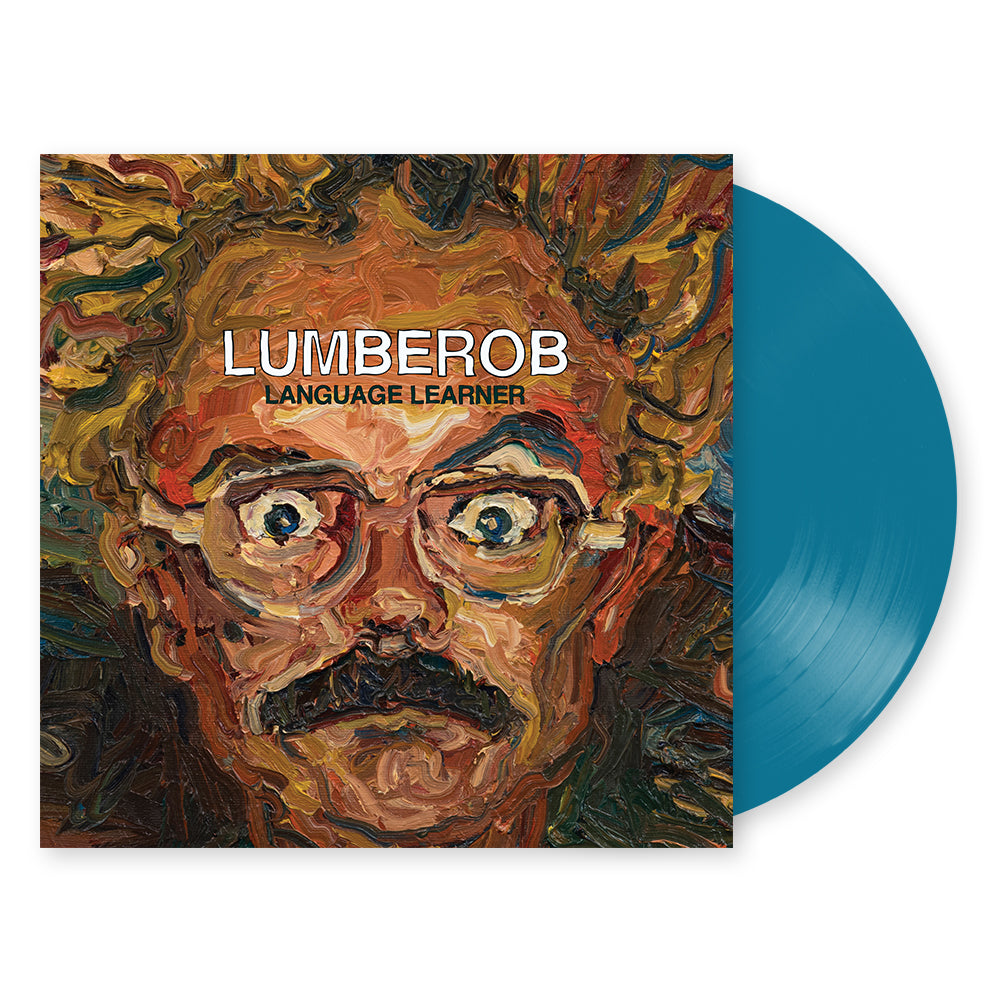 Tracklist

1. almondassassin
2. vesper
3. redbaron
4. sweetlove
5. friedleggings
6. tennisskirt
7. underpillow
8. cumulonimbus
9. hermitcrab
10. bostaff
11. calamityjimbo
12. gogether
13. snackthreat
14. begantocry
15. thismorning
16. freshroom
17. flinker
18. nicenude
19. fragrance
20. panicsmooth
21. blessence
22. huggentle

Credits

all songs written by LUMBEROB (Rob Erickson)
Mixed & Mastered by KRAMER
Produced by LUMBEROB & KRAMER
featuring performances by David Mendez, Alicia Cigna,
Ariel Soto, Juan Jose Lopez, Tobin Scroggins,
Becca Stabile, and Kramer

recorded in Brooklyn/USA, and Nosara/Costa Rica
front cover painting by Sonya Sklaroff
back cover painting by Tallulah Mankins
LP design & layout by Rob Erickson & Ryan Hover